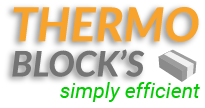 Warm House SIA
Warm House was founded with the aim of producing energy-efficient and ecological building materials that save time and money in construction. In 2006, the production of thermoblocks was started with the set goal.
Our factory and products meet high quality requirements. This is confirmed by the production control and production certificates issued by the "European Union CE" and "INSPECTA Group Finland".
Our Termoblocks are used in the construction of objects in Latvia, Lithuania, Estonia, Finland, Sweden, the Netherlands, Greece, Crete and England. Our customers are convinced of the energy efficiency and cost-effectiveness of building blocks.
Warm House offers various technologies for the production of lightweight concrete, including equipment, assembly, installation and training.
Zebiekstes iela 3-14, LVä1082 Riga, Latvia
More information
Contact
Zebiekstes iela 3-14, LVä1082 Riga, Latvia